Personal Injury

A Proven, Hands-On Approach

Quality Representation Across Texas
Personal Injury Attorney in McAllen, TX
Dependable Motorcycle, Truck & Car Accident Attorney in Southern Texas
After an accident, navigating the complex legal system alone can be daunting and overwhelming. This is why it's important to consider getting a personal injury attorney who is experienced in representing clients who have suffered significant physical, emotional and financial harm as a result of an accident.
A quality personal injury attorney at The Christopher P. Cavazos Law Firm, PLLC will help you understand your rights, provide expert advice and legal counsel, organize evidence and paperwork, fight for fair compensation from insurance companies or other responsible parties and protect you from unscrupulous tactics. Ultimately, a personal injury attorney is a valuable asset that can save time, money and stress during such trying circumstances.
Injured at the hands of another? The law gives you the right to recover compensation for your damages. Personal injury claims differ based on the type of accident as well as on the type of injuries. Even minor injuries can lead to a case if you incurred any medical bills or other losses as a result. We will ensure that an insurance company does not try to take advantage of you by offering inadequate payment.
---
To schedule a free case evaluation with The Christopher P. Cavazos Law Firm, call us today at (956) 290-8911.
---
The Christopher P. Cavazos Law Firm, Pllc Can Take the Stress of the Legal Process off of You
We will allow you to focus on your physical recovery. Oftentimes, we are able to increase the amount of money you are actually entitled to receiving. The requirements for bringing a legal claim can vary depending on the liable parties in your accident.
In any case, however, accident victims have the right to seek compensation for their medical bills, costs related to treatment, lost wages (including present, past, and future wages), pain and suffering, loss of companionship, and more.
The Christopher P. Cavazos Law Firm, PLLC Will Fight for You
Let us be your voice to recover the maximum compensation for your injuries. We will help you determine if you may have a claim against a third party for your injuries and be there to answer your questions.
If you were injured and feel that another person, company, or other entity was at fault, please call us right now to learn about your legal rights.
The Christopher P. Cavazos Law Firm, PLLC Will Determine the Best Course of Action
No matter the type of accident, we can examine your situation and determine the best course of action for you to recover the compensation you deserve.
The Christopher P. Cavazos Law Firm, PLLC handles injury claims involving many types of accidents, including:
Car Accidents
Truck accidents
Motorcycle accidents
Pedestrian accidents
Premises liability
Statute of Limitations
A statute of limitations is a period of time in which someone has to bring their claim to court. In Texas, the statute of limitations on personal injury cases is two years from the date of injury. If you do not file your claim within this two year timeframe than you will no longer be able to bring your claim to court. That is why you should contact our expereinced personal injury attorneys right away to get started on your case.
The Christopher P. Cavazos Law Firm, PLLC Will Protect Your Rights as an Accident Victim
Accidents can happen for many reasons and at any time and place. In many situations, an accident is caused by other parties acting in negligent or careless ways. We will assist you in holding a negligent person or company liable for all of the losses stemming from the resulting injuries.
The first step in evaluating a personal injury case is to determine who you may hold accountable for your accident. This can involve technical investigations and complex legal principles, so you want a qualified personal injury lawyer handling your case from the start.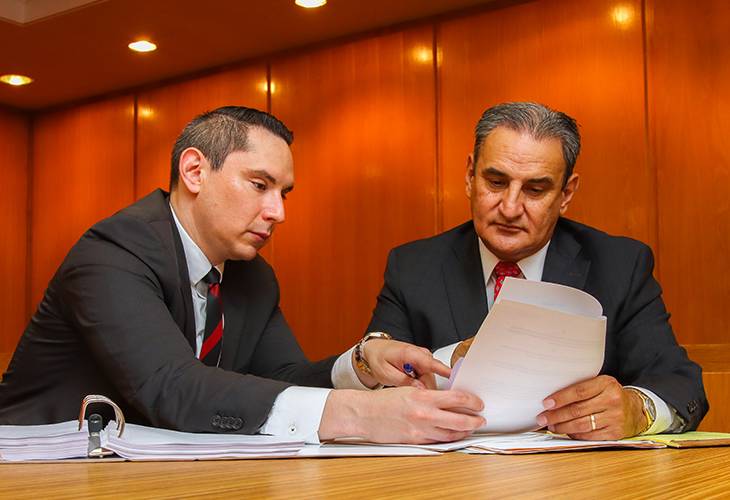 Call Us at the Christopher P. Cavazos Law Firm, PLLC Without Delay
As the medical bills pile up, you may feel concerned about your rights to compensation, but you may not know where to begin or may not have the energy to pursue a possible claim. Texas has deadlines for these cases, however, so you should never wait to discuss your situation with an experienced attorney. Remember—you pay us nothing up front when we take your case, and you pay us nothing unless and until we've won your recovery.
To schedule a free case evaluation with The Christopher P. Cavazos Law Firm, call us today at (956) 290-8911, or click here to send us a question.
Contact us online or at 956-290-8911
to request a free consultation.
Choose THE CHRISTOPHER P. CAVAZOS LAW FIRM, PLLC

Our McAllen attorneys directly handle each case we taken on, so you can rest assured you are getting the fully qualified help you need. Our attorneys provide invaluable insights from their years of experience, including that of working as a prosecutor. With our legal team on your side, you will be prepared at every step of your criminal defense or family law case. If you are seeking a legal team that is well-prepared to exploit any weakness in the prosecutor's or opposition's case, look no further than The Christopher P. Cavazos Law Firm, PLLC. We will work tirelessly to build the proactive defense or compassionate advocacy you need.